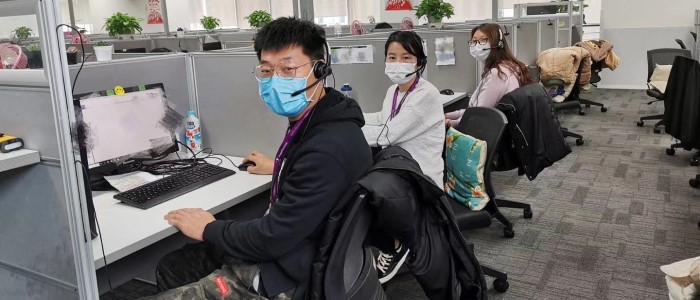 Coronavirus is also stated as COVID-19 which spread quickly in most of the states in Feb 2020. This virus affects several companies as well as call centers. The managers and employees of the Call center wonder to expect this problem. The calls will increase in case of the community hit by the coronavirus. It's the responsibility of the employees to provide relevant information on calls and provide optimal services. This can get possible by providing work from the employees.
COVID-19 takes two different types of challenges for 190 billion IT & BPO services; these challenges are related to business continuity or growth of the business. Apart from it, aviation verticals, hospitality or travel have seen a growth dip down in sectors of IT due to coronavirus spreading and affect these three terms because of traveling bans & flights grounding. This will lower down entire growth by 7.5% notches.
Companies overlook
Infosys emigrate to the Bangalore building on Saturday to take precautions steps when one of its employees has been getting in touch with a patient of coronavirus. The market of the US having account of 65 % business of mobile app development services based on Indian companies is now gathered to local staff to maintain the business or health of an individual.  The main challenge for the company is to ask about work from home which increases the risk of sensitive data leakage and thefts of data.
Apart from it, as per the rules of the telecommunication department, offices are not allowed for the connection with private networks at home. But department request to DoT for release this order for four weeks, so DoT relaxed department from restriction for KPOs, BPOs & the services of medical transcription.
Microsoft had seen increment at an average of 500 % for the team collaboration platform. This has been also noticed that conferencing facilities use is also increase & employees working systems can be monitored out. For this purpose, companies use Skype, Zoom and many other facilities to maintain the safety of data.
Multinational tech services or companies take better precautions in India and remote all tools for collaboration. One employee of Dell India has been tested positive for coronavirus and quarantined. The company increases the cleaning frequency& sanitized the entire office as well as motivates employees to take work from home. Tech companies reduced down the top services to provide safety to employees and protect from viruses.
More about COVID-19 impact over BPO
BPO stated as Business Process Outsourcing Companies have started a project based on work from home with India. A BPO company has its long-term agents and a particular group known as WAHA. This sector made contingency planning as well as mitigates the delivery cost to specific locations. Although, with shutdown the services from China because of COVID-19 spreading, the center's employees move to work from home.
Teleperformance of India has also mitigated their employees for work from home concept. So, these employees deal with all the needs, and further hiring is stopped out for some time. This way is cheaper and the best option for the operators of call centers in India. Teleperformance has 333000 employees all over the world. Although, this model can take some challenges and also disturb the like of connectivity of employees with their networks.
Companies have to do some sort of process before providing work from home to employees that provide a Hub combination & management of spoke business. The company also provide an integrator platform for desktop integrator through which machine can control the logs of agents, prevent from the fraud of losing the information of clients.
Ways to safeguard Call Centers from Coronavirus
Review all contingency plan of business
Contingency plans of business help in provide guidelines for a deal with the plague. So, this is a time to check it during the coronavirus spreading. By using these plans, gaps can be identified through which plans can get an update and then ensure the recovery and also make assure about the specific responsibilities of a different team.
Adjust daily routines
Some major steps seem to be useful to minimize the impact of coronavirus. Initially, focus on quality assurance and conduct meetings over the phone calls to avoid the employee's contamination.
Prepared for work from home
The best step is to release all employees for work from a home model, so that risk can be avoided out related to spreading coronavirus from one to another. The company can also provide equipped systems to the employees if they need them for a model of work from home. you need to use time tracking software to get prepare your work at the proper time.
Distribute work in a small team
Another step is to minimize the employee's density on the floor, this can get possible by dividing employees into different teams and provide their setting arrangements in specific rooms. It has been known that this virus spreading risk has been increasing in a crowded place.
Instead of a handshake, wave only
During meeting with someone, there is no need to shake hands instead of that, just wave them so, that hygiene is maintained. It is a habit of individual that handshakes every day while meeting in the morning. So encourage all the employees to maintain the distance and remain hygiene.
Sanitize and wash hands regularly
Encourage all the employees to wash hands and sanitize them regularly and take health issues seriously. Avoid touching their face continuously as well as increase the maintenance of hygiene in different locations.
Update the team
It's the responsibility of the company and team to update the employees about coronavirus spreading and make proper team planning for further working steps. Provide comprehensive & clear information to employees that help them to reduce down the impact over call centers.
Wrap up
COVID-19 seems to be threat-full for call centers and BPOs, as this is the place where several employees are present. Call centers also face a risk of data leakage during providing work from home to employees. So, it is necessary to be safe and maintain hygiene by taking safety precautions. We providing business robust solutions for web application development services and get everything you need. We have a team of experts who is always ready to help you.