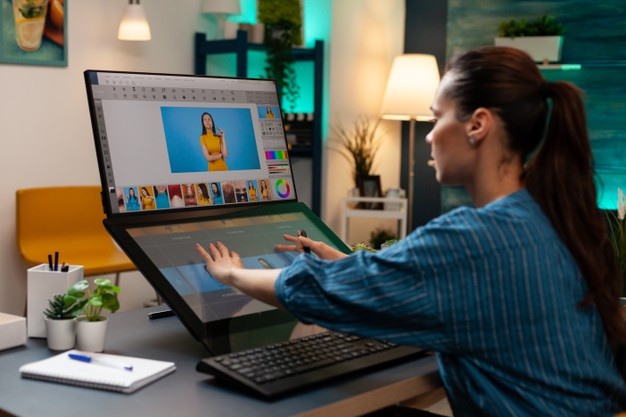 Creating bold, eye-catching images makes all the difference on social media. Whether you're a small business owner or an aspiring influencer, a few simple edits can make your photos stand out online.
It's unreasonable for most people to dedicate hours to editing photos. there are plenty of fantastic apps that make photo editing simple and intuitive. Here are some of the easiest apps to use for photo editing for non-professionals, so you can start posting engaging photos right away.
Features to Consider in a Photo Editing App
When choosing a photo editing app, there are a few key things to look at. Consider the features and whether they meet your needs. If you're looking for something that makes your landscapes pop, you won't need the same face editing capabilities as someone who primarily takes selfies. Consider what are absolute necessities for you, and find a platform that offers those features.
Consider the user interface and ease of operation. Some photo editing programs are very intuitive, while others require a deeper knowledge of photo composition. Depending on your goals, it might be worth diving into photo jargon a bit more before you get started. Using a platform that also offers tutorials is also beneficial.
Take some time to read reviews and ratings. Take time to look at midline and one-star reviews to get a better idea of the challenges you might face when using that app. Remember to take both positive and negative reviews with a grain of salt. Consider the pricing. Many photo editing apps have free versions with limited functionality. Sometimes it's worth paying more for the full offering.
Best Mobile Apps To Use For Photo Editing in 2023
1. Facetune
Photo opportunities happen at the most unexpected times and inconvenient places. You don't always have time to put on makeup before capturing a stunning golden hour selfie, and you can't force other travelers to stay out of the background of your beautiful vacation photo.
Facetune is a fan-favorite app among influencers and mobile photographers. This photo editing app is incredibly easy to use, with intuitive graphics and tutorials showing you how to accomplish the edits you want.
You can transform your fresh face into a makeup photo with the click of a button (learn more here) or "vanish" the other travelers in the background at that white sand beach. The simple user interface and exceptional functionality make Facetune a must-have to edit your photos and grow your social media.
Pros of Facetune
Intuitive interface.
Offers video editing options.
Background removal.
High-quality face editing.
2. Adobe Lightroom Mobile
Adobe is world-renowned for professional photo editing software. However, many of their platforms require specialized training and hours of hands-on learning to master. Adobe typically isn't the first place to look for those looking to enhance their photos quickly and easily.
However, Adobe's Lightroom Mobile app is simpler and more accessible than its other platforms. Lightroom Mobile is free, with limited functionality compared to the professional version. However, the mobile presets and automatic enhancement feature make it worthy of consideration. You can also use presets for a consistent aesthetic with one click.
One of the downsides of Lightroom Mobile is that many of the Lightroom presets you can purchase online aren't compatible with the mobile app unless you have a pro subscription.
Pros of Adobe Lightroom Mobile
Has a syncing desktop version.
Easy to use.
Robust free version.
Simplified custom presets.
3. Snapseed
Snapseed is a Google-owned app that's meant to replicate professional editing software for free. Like Lightroom, Snapseed offers one-click filters and presets for a variety of simplified editing options. It's free, user-friendly, and pretty robust.
The downside of Snapseed is the learning curve with many of the functions. If you're looking for something simple, you'll only ever use a few of Snapseed's functions. The app offers a lot more with no explanation, user training, or intuitive framework, making it a bit convoluted for in-depth edits. If you're just looking for something to make the colors pop, Snapseed will do the trick.
Pros of Snapseed
Robust free version.
Simple one-click edits.
Easy-to-layer edits.
4. A Color Story
A Color Story is another basic photo editing app that offers a versatile collection of filters, edits, and tools. One of the best features of A Color Story is the grid preview, which allows you to outline your photos on an Instagram template for a high-level view of your grid.
This easy-to-use photo editing app lacks the one-click background removal and makeup settings that set Facetune apart from the rest. However, A Color Story fills the gaps left by Snapseed by offering a robust library of tutorials and how-tos that cover photo composition and custom aesthetic editing.
Pros of A Color Story
Beautiful user interface.
Versatile editing capabilities.
Practical tutorials.
Brand-centric editing elements.
Most affordable.
5. PicMonkey
PicMonkey is primarily known for competing with Canva in creating custom graphics. While Canvas graphic creation is more robust, PicMonkey offers a simple photo editing component that makes it worthy of consideration.
You can use PicMonkey for simple selfie touch-ups, like brightening the eyes and removing blemishes. It also offers some unique selective focus functions that make it a valuable tool for on-the-go landscape and scenery photo edits.
Pros of PicMonkey
Syncs with the desktop version.
Immersive step-by-step tutorials.
Great customer support.
With these photo editing tools, you can produce professional-looking social media photos in minutes. Find the one that best suits your style, and start perfecting that grid.