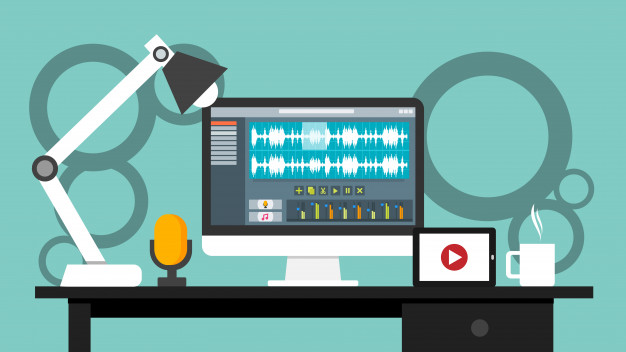 Are you looking for the best free Wavepad alternatives online? You might have come across with many audio editing apps online. Perhaps, Wavepad is one of the most popular and highly recommending audio software made available online. Besides, the era of similar Audio editing software like Wavepad is bringing more attention to the market. Not only single or countable users, apart from that – millions are now finding the best.
Obviously, you may find enormous similar in free and in premium as of now. However, the intention of most users always behind the free versions before switching into the premium version of any. Today we have some ideas to share with you concerning the audio editing software alternative which is free and best in 2020. Check out Trotons Team collected some basic information and the idea of this fact what you are looking for. You might come across with many tops trusted professional video editing apps, let us see some audio editing software.
10 Best Free Alternatives to Wavepad Sound Editor
Would you like to experience free software like Wavepad? Ever wondered which is highly recommended alternative software like as how it is delivering the features. Check out some of the most popular sound editor software Wavepad alternatives which are highly recommended in 2020.
Audacity
Ardor
Ocenaudio
Wavosaur
Waveshop
Nero Wave Editor
Zynewave Podium
GarageBand
mp3DirectCut
LMMS
Audacity
If you are looking for Similar Audio editing apps like Wavepad, Audacity is the right choice and most users are recommending. As it is available in the free platform and is built with the open-source platform. Besides, you can able to convert tapes, live recording on audio sounds files can be easily edited. It is supportive of all computer firmware such as Linux, macOS, Windows, and more. Multitrack editing is a highly notable feature for the Audacity.
Ardor
Ardor is yet another best alternative audio editing software like Wavepad and is also open-source software. Furthermore, this is available in free and also in the premium version on the basis of features managing by it. Obviously, Ardor is having high most notable features in the free plan such as Music mixing, Sound recording, and Music Editing. Likewise, the users are opting with the basic free option, even though, it is available on all Windows, macOS and Linux.
Ocenaudio
This Ocenaudio is built a cross-platform software, which is similar to audio editing software like Wavepad. Obviously, this Ocenaudio is bringing a user-friendly experience and it is providing a fast audio editing process. Moreover, it supports over VST plugins and even it is having an Intuitive interface – experience users to understand easily. Besides, the software available for free on macOS, Linux as well as on Windows platform.
Wavosaur
Well, Wavosaur is yet another free Sound editing software like Wavepad with exciting software. Obviously, it's the best alternative by all means like Wavepad, and users are highly acknowledging its features. It is free to use on Windows and not available on the macOS and other Linux. As the installation is a highly easier and user-friendly experience on all Audio editing as well. Like Ocenaudio, Wavosaur is supportive of VST Plugin with Waveform.
You might like: Maonocaster – A Portable All-In-One Podcast Studio
Waveshop
Waveshop is yet another best free Wavepad Alternatives, which is now trending in 2020. It is the fact that Waveshop is an open-source platform and trusted by millions of users like how they supported Wavepad. Waveshop is only recommending software for the Windows users and other than any firmware, it cannot experience. Even though, it is free for audio editing as well as a sound recording. Waveshop supports the multitrack features in the best manner to the windows users.
Nero Wave Editor
Nero Wave Editor is a smart choice and the free Music editing software like Wavepad. This alternative software of Wavepad is free to use and it is only available on the Windows platform only as of now. Like other sound editors, this Nero Wave Editor Wavepad alternative is really supportive in audio editing. Sound recording as well as in the Mix music will be an incredible experience on this.
Zynewave Podium
Zynewave Podium is yet another trusted alternative to Wavepad and it's great on the Windows platform. If you are searching for sound editing and MIDI, as well as with hosts VST instrument – this Zynewave Podium is the best choice. Well, comparatively it is performing exactly like Wavepad and not available for the macOS or for the Linux users. Apart from premium options, this Zynewave offering a premium facility and you can experience more advanced features than the basic free option. 
GarageBand
It's a series of digital audio workstations that permits the users to make music or podcasts. The software system is developed by Apple for iOS devices. the exploitation of the MIDI Keyboards, premade loops, and an enormous type of instrumental effects and voice recordings will change the users to create varied music and podcasts. GarageBand was developed by Apple underneath the vision and steerage of Dr. Gerhard Lengling once an associate worker of Emagic. Steve Jobs at the start proclaimed the discharge of the application in his keynote address at the Macworld Conference in 2004 held in San Francisco.
mp3DirectCut
This software is a lossless editor for mp3 audio files and a tool to provide cuts and crops, the ability to copy and paste, and provide gains and fades to soundtracks without having to encode or decode them. Just by modifying the global gain field of each particular frame of the soundtrack, the volume of the frame can be modified without altering the data in the audio itself.
These features allow rapid, lossless mp3 audio editing that does not degrade the data while re-encoding. This software even allows recording audio directly to mp3 from the computer's sound card input. It was developed by Martin Pesch and it is supported by Windows and Linux(wine) operating systems. It is classified as a freeware Digital Audio Editor.
LMMS
LMMS was formerly known as Linux Multimedia Studio. It is a digital audio workstation program. If it is executed on a computer with the proper hardware, it is capable of producing music by arranging samples, synthesizing sounds, and playing in=t on the digital MIDI keyboard, in a combination with other features of Trackers and Sequencers.
It also supports the Linux Audio Developer's Simple Plugin API to master its capabilities. It is free software, developed by the LMMS developers under the supervision and guidance of Paul Giblock and Tobias Junghans. Its initial release was made in the year 2004 and the most stable release was done on 4th July 2020. It is written in C++ with Qt. It is available cross-platform: Windows, macOS, and Linux.
Frequently Asked Questions [FAQ]
Can I able to completely remove the track using this free alternative software of Wavepad?
It purely depends on which software you were opting for the purposes. Even though, on the basis of firmware, it is dependent the features supporting by these Wavepad alternatives software available online.
Is VST plugin available for all these alternative software? If not available is there any advice to tell us?
No, there were peculiar software alternatives like Wavepad do support the VST plugin option. However, it is good to make an idea by knowing the feature of the software which you going to download. As the feature will completely let you know about the same in detail.
Does this Wavepad alternative software support on 64 bit?
Al the above are supportive of windows other than macOS and Linux. As if the above software made the upgrades, then you can easily switch the same to 64-bit computers without any kind of lag. Make sure about the upgrading details and the features managing the same before downloading it.
Conclusion –
Finally, you found the top trusted best free Wavepad alternatives which are trending now in 2020. Find more quality features and updates at Trotons Tech Magazine soon – you can share your view on this alternative software like Wavepad by sharing your valuable thoughts with us.