Programming
What is Graphic Designing and 10 Free Latest Graphic Designing Software Available Online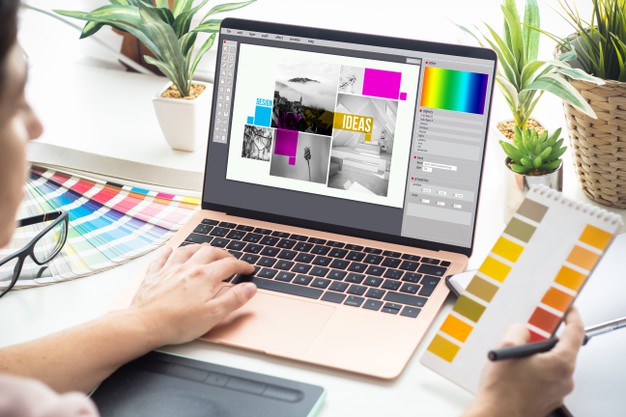 Graphic designing is a form of art in which people create graphic content to convey messages. Professionals apply visual techniques and page designs to meet the client's needs. They achieve this by using the visual chain of command and page design techniques. They use style and pictures to meet clients' unique needs. Companies can use graphic designs to advertise and sell goods. They can also use websites' graphics to express complex details in a simple way. Graphic Designing helps companies in branding, to create their identity. It is very important to note that Graphic design is also used in other contexts. Other than advertisements and logos Graphic designs help to express inner thoughts. here we describe all things about Graphic design and Free Latest Graphic Designing Software available online.
The Elements of Graphic Designing
It is important to know the elements and principles that makeup Graphic Design. The elements include the following
Color – Color is one of the elements that help in attracting attention. There is a psychology behind the emotions that colors evoke. Hue, value, and saturation are the three main characteristics of color.
Shape – A shape is a two-dimensional figure formed by lines. Geometric, abstract, and organic shapes are examples of different types of shapes.
Texture– Texture refers to how objects appear to feel if we touch. Texture may be rough, smooth, shiny, delicate, stiff, and so on. Another aspect that people use to attract attention is texture. Other components, such as shapes, colors, pictures, and form, are also inclusive of these.
Size – Size refers to how large some object is. Size is used in design to show the importance. It can also be used to generate visual interest in a design by using contrasting sizes.
Spacing – The areas of the design that left vacant are space. Any gap or area between, under, below, or above other design elements is included in this category. Designers include spaces in their designs to draw attention to specific elements.
Lines – The most fundamental design function. Curved, smooth, dense, thin, two-dimensional, three-dimensional – lines can be anything! A line is a design feature identified by a moving point in space.
Graphic Design Principles
The design principles suggest arrangements of different components of a page. This ensures that the elements of the design relate to one another.
Balance – In graphic design, symmetry, and asymmetry helps to achieve visual harmony. One can achieve this by balancing the design's weight. It includes distributing shapes, lines, and other elements. A design's balance is critical because it gives it structure and stability.
Alignment – Alignment aims to keep the design in order. The design should cover all the aspects to be aligned with the top, bottom, middle, or sides. This establishes a visual link between the components.
Proximity – Proximity establishes a visual link between the design elements. It reduces clutter, improves audience understanding. It gives viewers a focal point. It means that one needs to have a visual link of all the points.
Repetition – If one decides how to use the components, they will have to repeat certain patterns in the design. This ensures maintain continuity. This repetition links individual elements together and reinforces the design. It also gives it a sense of movement.
Contrast – Contrasting is used to draw attention to specific aspects of a design. This creates distinctions between components. It allows highlighting the main elements of the design.
Types of Graphic Designing
Graphic design has evolved into a very diverse field. The common types are as follows
Corporate Design – Corporate design connects with a company's visual identity. The corporate design may be like any graphic element. It helps to make up a brand's identity, such as a logo. Brand marketing employs this form of graphic design to convey brand values. Designers achieve this through photographs, shapes, and color.
Advertising and Marketing – Marketing and advertisement are some of the most well-known forms of graphic design. The majority of people think of graphic design when they think of this stream.
Print and Publication – Publication design is referred to as print media. But with our digitalization, it has shifted to digital publishing. The editors must work with designers to ensure that all the elements are integrated. This helps to give the best possible result.
Web Design – Though web design isn't a form of graphic design, it is an important component of web design. To create a user-friendly interface, web designers must combine a variety of design elements. It includes layout, photographs, and typography. Below are the ten popular and free Graphic Design Software available online to download
10 Free and Premium Latest Graphic Designing Software and tools Available online
Vectr
This is free graphic design software and tool that helps to make a variety of designs. It includes t-shirt prints to full-fledged website graphics. Vectr has an easy-to-use interface that lets you export generated files in real-time. This software lets to exchange information between various devices. Hence it is ideal for collaborative design. Their website states that it is simple to use. Their developers are available to assist you at any time and with any query. This will be a great place to start if you can't afford to buy more expensive vector programs. it is one of the free latest graphic designing tools and software available online.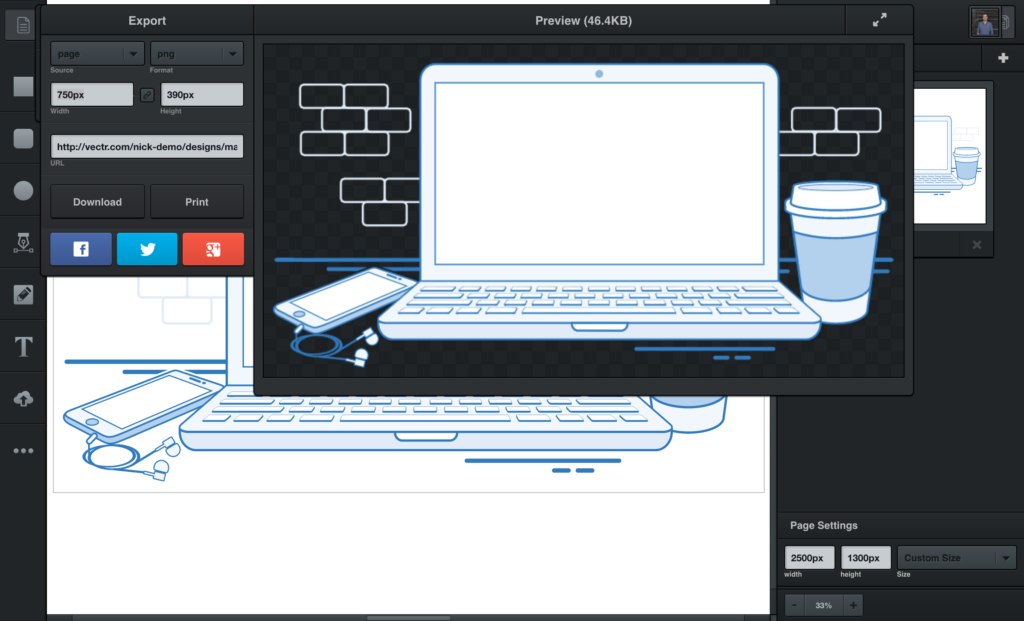 Vectr is a simple yet powerful solution for vector graphics meant for software engineers, social media specialists, and bloggers that helps design vector graphics with ease. It is a reliable cross-platform software supporting ChromeOS, Mac, Linux, and Windows.
Pros:
Vectr does not involve a steep learning curve for its users.
Vectr is equipped with advanced tools such as stars, lightning bolts, assorted clipart designs, calendar icons, and arrows.
It provides rigorous online support and saves every project in its cloud storage.
It provides support to all kinds of external platforms while remaining robust in each.
It is a great beginner solution to graphics designing that is free of cost.
Cons:
It is compulsory to sign up to save files.
Vectr is plagued with ads that affect its performance.
It has few high-end tools for professional design.
The interface is quite simple and not appealing.
With Vectr, you can create designs that would take an experienced Canva user half the time required.
Inkscape
Inkscape is one of the best graphic designing software or tool used by most graphic designers. This free vector graphics software is a free alternative to Adobe Illustrator. Inkscape uses Scalable Vector Graphics (SVG) as its primary format. This software will be easy to learn for designers who are familiar with vector graphics. Inkscape is also available on the App store and here you know more about Best free Premium Android and iOS Apps for Graphic Design.
Inkscape is a robust vector editor that helps you create essentially professional-grade graphics. If you are looking to replace your expensive software because of cost reductions, Inkscape is the best alternative for you. It uses SVG (Scalable Vector Graphics) for its primary format. Inkscape is specially made for designers who are somewhat familiar with vector graphics but only beginning to use tools for the same.
Pros:
Inkscape offers quite a lot of tools for free-to-use software.
It offers extraordinary potential for designing, especially in the case of.SVG formats.
Inkscape is open-source in nature, hence it is highly customizable if you know where to look.
It provides a multitude of great tools and features that are easily accessible.
The keyboard shortcuts it offers are simple yet immensely useful.
Cons:
It can be a bit difficult to learn if you are not associated with the world of graphic design.
It cannot edit .eps files, a file format widely known and used by graphic designers.
It has no support for multiple artboard exports.
The interface, while generic in nature, is a bit tricky at times and not intuitive.
It does not really have all the tools you would require for advanced designing methods.
Gravt Designer
It has more features like Vectr and is as user-friendly as Inkscape. This package includes all of the features you'd expect from a vector program. It includes tools that are commonly used in digital asset management applications. Gravt Designer is the latest web designing tool or software that helps graphic designers to get massive graphic designing.
Gravit Designer is a vector graphics designing software made for graphics, product, and website designers. Gravit offers a panel of powerful tools that help users boost their creativity in case of creating intricate and appealing vector images. Apart from that, Gravit is free for all users and cross-platform in nature and operates in two ways – in browser and as a desktop application.
Pros:
Gravit provides an intuitive, easy-to-understand, and swiftly navigable dashboard.
Its interface is entirely customizable.
It offers absolute portability to and from all kinds of platforms.
Its keyboard shortcuts are immensely useful and easily accessible.
Gravit offers support for quite a lot of export file formats.
Cons:
Gravit has a complex interface which makes it perform slow at times.
It lacks options to opt for real-time collaboration with other artists.
The prototypes created using Gravit often do not run on smartphones.
A lot of crucial and essential features are available under its Pro subscription only.
Gravit is not officially licensed with a GPLv3+ version anymore since it lost its dual licensing.
Canva
Canva has ten million users and offers universal resources for creating everything users want. It has a drag-and-drop feature as well as high-quality templates. Canada is the most popular graphic design software that is available in all forms. it has a premium plan where you can use these amazing features to edit videos and images and make your amazing design. This is one of the popular software and tools for graphic designing.
Canva is an indispensable design tool if you have zero to low experience in the field of graphics designing. While it is often tagged as a revolutionary image design software, Canva is much more. It can help you design literally everything: from printables to flyers to PDFs to websites to invoices to infographics.
Pros:
Canva is an on-the-go tool that helps you create graphics out of nothing.
It houses thousands of templates of all kinds that help you design with ease and swiftness.
It offers a plethora of photo effects that enhance your images in several ways.
It can offer you more than 75 million images and videos to utilize in your designs.
It provides a unique content planner that helps you keep track of your projects and deadlines.
Cons:
Canva doesn't let you create elements and objects of your own but provides prebuilt items of design such as lines, icons, frames, and more.
Most templates it offers are generic and ubiquitous.
Canva is not made for heavy-duty professional editing.
The interface, while well-equipped, can often prove to be complex.
Canva is not as great on small screens as it is on desktops.
GIMP
Gimp is a free graphic design program with a lot of features. It comes with a flexible photo editor that runs on all major operating systems. Gimp is a powerful photo editing program that helps to produce drawings, mock-ups, and other visual effects. Gimp is specially designed for the students and trainees of Graphic design. it has a lot of functionality in it and that is why it is one of the best graphic designing software available online easily.
GIMP is an open-source graphic designing application that is free of cost yet equipped with professional-grade tools and features. GIMP has earned quite a name for being Adobe Photoshop's competition. The suite of features offered by GIMPenable users to fine-tune their media to the tiniest of details. GIMP offers features such as color gradients, noise reduction, cropping, color adjustments, automatic tools for image enhancements, and customizable brushes.
Pros:
GIMP provides users with all essential editing features and tools to create great designs.
It has a shallow learning curve, great for designers who are beginning to venture into this field.
With GIMP, you can create GIFs involving several layers.
GIMP is absolutely free and open-source in nature.
It is unanimously touted to be the best alternative to dominant applications such as Photoshop.
Cons:
It may require multiple layers of editing to achieve what you desire to design.
The interface of GIMP can prove to be complex and somewhat unnavigable.
GIMP has a cluttered appearance and struggles with lagging issues.
With GIMP, it is hard to achieve complex functions such as retouch of a face.
It does not provide an option to export in CMYK format.
Easel.ly
For those who haven't worked with infographics before, the best choice is Easel.ly. When you consider a variety of symbols in the form of moving figures, different lines, and diagrams.
It does not matter if you possess designing experience or not, Easel.ly is easy for everyone: from businesses to executives to students, Easel.ly makes it super easy to create infographics online. It is a web-oriented infographic platform that enables users to convey their ideas, processes, concepts, projects, and reports via inspiring forms that double as a visual treat for the eyes.
Pros:
Easel.ly's primary feature is its diverse infographics types, sharing capabilities, and designing and editing tools.
It lets you create list infographics to provide support to particular claims and iterate steps.
Its timeline infographics make it easy to emphasize historical data and the chronology of events.
Easel.ly lets you easily share your infographics through its accessible social media integration.
You can further embed objects into your infographics.
Cons:
It offers no support for Android OS.
Its interface is neither quick nor intuitive.
Its free trial version has huge capability limitations.
It has zero privacy; anyone can view your work.
In its basic version, Easel.ly lets you create only up to four pictograms, charts, or graphs
SVG-Edit
SVG-edit is a free design tool that does as it says on the tin. It also edits and builds SVG. This is free online software that works with the majority of browsers.
SVG-edit is a JavaScript-based, web-oriented SVG design editor. The application makes use of only SVG, HTML5, GIF, CSS, TIF, and JS only. It is as reliable a tool that can be operated with every browser out there. It is even available as add-ons for a browser, such as Chrome App, standalone Opera widget, and firefox.
Pros:
SVG-edit boasts of capabilities that can put fierce competition like Adobe Illustrator to shame.
It is free to use and open-source in nature.
It offers a wide variety of tools to help users achieve the exact SVG they desire.
It is equipped with a module that easily converts SVG into several other file formats.
It lets developers develop a customer interface into the canvas.
Cons:
SVG-edit does not offer server-side functionalities.
Its lack of a dedicated application often creates issues of lagging.
The service is quite simple and not suited for professional-grade edits.
A lot of crucial and essential features are unavailable.
It is suited only for small businesses and organizations.
Daz 3D
This is the best free graphic design program for animators. It has animation, figure posing, and rendering capabilities. Daz Studio is the graphic design platform, included in the software. Daze 3 D is the free and premium tools and software for graphic designing.
Daz 3D is software made for animators, designers, and illustrators, to create and design3D animation, rendering, and figure posing. The system of Daz is a combination of several graphic design platforms, tools, and even add-ons such as Daz Studio, Genesis 8, and Hexagon, that work in unity to enable and ease creating raw human models in 3D. It offers both a figure platform and character engine to achieve detailed models.
Pros:
Equipped with morphing capabilities, Daz 3D lets you combine body and extremity sizes, figurines, and muscularity.
Daz 3D hosts a library of HD morphs that lets you access a wide range of human 3D figures with true-to-life details.
Daz 3D includes a useful add-on, Hexagon that helps create, animate and render 3D content with ease.
It lets you design customized 3D characters and figurines on the go.
It is free to use.
Cons:
Daz 3D has had complaints of terrible customer service.
It is not made for users who are beginners at designing 3D figures and objects.
It cannot produce results as good as its competitors who are pay-to-use.
It has no support for mobile devices.
While it is essentially free to use, you may need to pay for a lot of crucial features
Blender
Blender is 3D graphics software that is one of the best on the market. It's used in a variety of fields including 3D modeling and visualization. Blender may also be used to create outdoor advertisements, print items, and web design.
Blender is a computer graphics suite rich in features and highly intuitive. It is a 3D computer graphics suite, open-source and free to use, and has been used for visual effects,3D models, 3D applications, video games, and animated films. Blender offers rendering which appears ultra-realistic, made possible via its in-built path-tracer engine.
Pros:
It is an absolutely free platform and open source in nature.
Blender offers interactive game tools such as logic, collision detection as well as dynamic re-enactments.
It supports graphic formats such as JPG, HDRI, TGA, IRIS, or TIFF.
It has an integrated 3D game engine equipped with a logic brick system.
It has live preview options.
Cons:
It has a steep learning graph and is difficult to comprehend by amateur designers Gravit has a complex interface which makes it perform slow at times.
It is unlikely to perform and run quickly on low-end systems.
Blender lacks detailed documentation for its features.
Models often result as noisy and messy to clean.
It has had serious and many reports of app crash.
Krita
For illustrators and concept designers, Krita is the best free graphic design program with an open-source. It would be most useful to comic book artists. Krita is specially designs for Professional painting program. Krita is the only dedicated painting platform for Graphic designers and latest it can help you to a part of the frame-by-frame animation.
Kritaperfectly suits you if you are a professional or an amateur artist who is searching for an affordable painting software solution. It is free of cost, open-source in nature, and a great painting and sketching platform equipped with nimble performance and extensive features. All this earns Krita a favorite place among illustrators, visual effect creators, texture renderers, and concept designers.
Pros:
Krita hosts several tools for layering, transforming, rendering, mirroring, smoothing, blending, color mixing, and more.
Every tool of Kritais available on both desktops and graphics tablets.
It houses layer management tools that make it easy to organize drawings.
Krita has easily accessible educational and instructional tutorials for amateurs.
It offers paint tools of all kinds that users may require.
Cons:
Krita lacks documentation for its features.
Its interface is not intuitive enough.
It has no support for hotkey shortcuts.
Other paid software comparable to Krita offers way better features.
It is not made for artists with zero experience in painting tools.
Conclusion-
Here in this article, you get information about Graphic Designing and more. You can use these all latest graphic designing tools and software that are easily available online and if you want to use more features then you can make the payment and you can use that all massive features for designing. Graphic Designers can use all of the best 10 graphic designing tools for their use to make a moc, designs and more. If you want to know more articles like this one then please continue reading this blog and follow. we will bring you the latest in the market.