Tech
A complete guide to Ad Hoc reporting with best practices and examples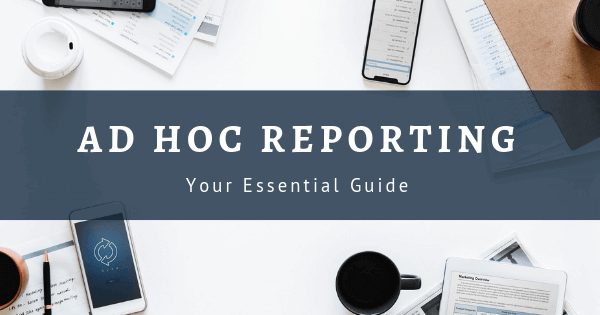 Ad-hoc reporting is a business intelligence (BI) paradigm in which nontechnical business intelligence users create and disseminate reports. In other words, all the technical user has to do with ad hoc reporting is set up the BI solution, link it to the data sources, set security parameters, and decide which objects end-users may see. The actual reports are prepared by company end-users after that.
For both individual users and companies, ad hoc reports have significant advantages over premade reports. Ad hoc reports provide distinct advantages for each business (in addition to its general advantages). However, in order to get the most out of ad hoc reporting, the designer must follow a few best practices.
Canned Reports vs. Ad Hoc Reports
Canned reports place a significant amount of strain on IT. A user must submit a request to an IT employee who is in charge of business intelligence (BI) tools. The IT member codes the report creates it and sends it to the requester. Depending on the size of the business and the exact activity that needs to be completed, this process can take several days.
This approach is inconvenient for IT because it diverts their attention away from implementing technology solutions for their firm. In large firms, IT will often automate much of this procedure for regular reports, but one-time reports will not benefit from this automation. Ad hoc reporting necessitates the configuration of a reporting tool by IT, which only needs to be done once. Users can then construct their own reports, which are typically ready in seconds. Ad hoc reporting capabilities in BI platforms are typically geared for non-technical users, removing the requirement for training for business users creating ad hoc reports.
The Advantages Of Ad Hoc Reporting and Analysis
IT workload is reduced
Ad hoc reporting's self-service nature accelerates the report development process by allowing end-users to work with bespoke reports on specialist business areas without requiring developer assistance. This saves time and money while also reducing the risk of interdepartmental conflicts.
Maintains flexibility in an ever-changing business environment
Ad hoc data analysis allows end-users to make real-time changes to reports. Users can ask questions and customize report items to meet their needs and goals because report elements are chosen individually. It's critical to respond to business questions as quickly as possible, and one of the advantages of ad hoc reporting is that it allows you to keep up with the ever-changing business environment as the need arises.
Completely customizable
While the goal of ad hoc enterprise reporting is to obtain and maintain visibility across a broad organization, it's also crucial to evaluate the customization options available. Some of the products, for example, feature built-in dashboards with pre-made layouts that you may customize to fit your needs. As a result, you'll be able to save even more time and concentrate on what really matters: the business solution you're looking for.
Time and money are saved
Because their interface is simple, yet powerful, modern ad hoc reporting solutions are meant to save countless hours. Users can generate interactive visualizations without having to wait for a professional analyst or as previously indicated, the IT department. This self-service BI aspect, which puts the user in complete charge of a data-driven system, saves numerous working hours and costs because users don't have to wait for reports and may create as many types of ad hoc reports as they need.
Ad Hoc Reports – Best Practices
Determines the question that the report must answer
Asking the question, you want the report to answer is the first step in creating an ad hoc report. It also entails checking to see if the question has previously been answered by another report. Even if an existing report already answers that question, modifying the appearance of the report may improve it. Every time you create a report, keep this technique in mind. A fundamental prerequisite for ad hoc reporting is understanding why you need it and how the response will impact your organization.
Consider the report's design and layout
Minor design elements in a report's arrangement can have a significant impact on the reader's value. Because they limit the quantity of data the viewer must digest, sort order, grouping scheme, and filtering criteria are all significant considerations in report design. Because it can lead to decision fatigue, the layout is especially critical for preventing managers from becoming overwhelmed. Limiting the number of KPIs in a single report to six is one smart method to do this. You can still display more than six data components in total, but when choosing a layout, you must build a hierarchy of their aesthetic relevance.
Using templates for reporting
End-users can produce their own reports at any moment with ad hoc reports. End-users can quickly develop ad hoc reporting templates with business intelligence software products to reduce report design time. End-users can create, format, and export ad hoc reports using pre-made templates (without assistance from IT). This functionality enables anyone (technical and non-technical end-users alike) to offer data to a third party for analysis or to discover their own insights into the data without having to rely on someone else to create the report.
Keep reports simple in appearance
Determine the report's general concept so you can create it without overwhelming the viewer with information. This means that you should make sure that a single report can contain all the data pieces you want to display. If it doesn't, you'll need to split the data needed into multiple reports. After you've determined that the number of data items in an ad hoc report should be kept to a minimum, the following step is to determine which ones are required. You must consider your audience, particularly their function and level of subject knowledge, for this work.
Provide easy access to consolidated data points
Displaying aggregate data apart from the body of the report, such as in an executive or section summary, is one way to draw attention to it. These summaries are usually found near the top of a report, rather than the bottom, which is a preferable place for aggregate data. Users should be able to view aggregate data details immediately from the summary. In this situation, instead of a lower page in the reporting hierarchy, you should put these details on the same page or a peer page.
Inline highlighting for this information, especially for large tables, is another approach to making aggregate data apparent. This strategy usually entails using a bold typeface and a variety of colors, though it may not work with some fonts or readers with poor color vision. In the left margin, graphical displays of information can also aid users in finding aggregate data.
Examples of Ad Hoc Analysis in the Real World
Ad hoc reporting in Retail
In retail, it's critical to keep track of sales volumes on a frequent basis in order to improve the overall performance of an online store or a physical location. An example of an ad hoc report could identify certain weeks when sales volume was lower than usual. By digging deeper into the statistics, you might deduce that demand was lower owing to external factors such as a severe storm that delayed deliveries and resulted in numerous cancellations.
Ad hoc reporting in healthcare
We can also look to healthcare as an example of ad hoc reporting. A physician may not be able to create an HTML report or perform an SQL query, but a reporting tool can rapidly and simply provide data that is only needed once – such as a blood test report or the number of persons admitted to the ER on a certain day/week. Ad hoc analysis has helped to transform the healthcare industry.
Ad hoc reporting for human resources
In today's competitive corporate environment, producing personalized, timely, and accurate recruiting reports is critical. Companies can discover shortcomings in their human resources management and enhance employee satisfaction levels using an ad hoc reporting example from HR, which is crucial given the shortage of talent across industries.
Conclusion
For on-the-go reporting, our tools, applications, and dashboards allow you to monitor data and develop new insights using your web browser or tablet at any time, anywhere, while knowing that your data privacy and security are protected to the highest standards.