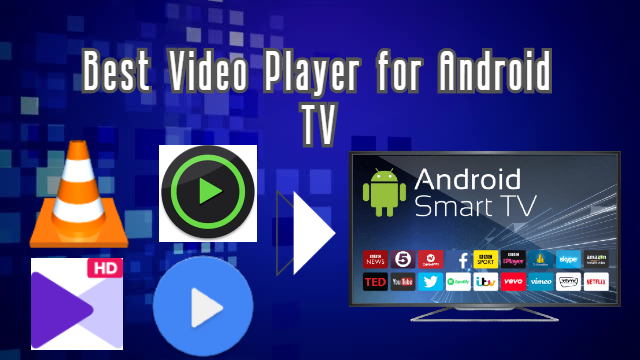 Are you searching for the best media player for an android smart TV for free? Then you are in the correct place. In this article, we provide you the details of the five best android video player apps.  The internet speed is getting increased day by day so people are ready to watch live online streaming content on the Android Smart TV like their Android smartphone. here we are providing you 10 Best Video Players for Android TV Free 2023 in the Latest Version.
The video player is one of the best things you have to choose because the best video player will provide you with the best streaming experience. Plenty of android video players are available on the internet but choosing the best one is very difficult. So here we have listed the 10 best video player apps for Android TV based on the User experience and reviews. Stay tuned to get the best media player on a smart TV.
10 Top-Rated Video Player Apps for Android TV Free in 2023
MX Player
VLC Player
KM Player
AC 3 player
X player
PlayerExtreme
FX Player
N Player
Kodi
VL Video Player IPTV
These are all the best android video players for your smart TV. Let's look at more details of these 10 video players.
1. MX Player – Best Android TV Media Player App
MX Player is one of the most powerful video players with advanced hardware acceleration features. This is not only an offline video player you can also watch online streaming videos and audio content for free. MX Player app is the first Android video player which supports a multi-core decoding feature. This MX Player made more than 500 million downloads in the Google Play Store because of its advanced features and neat user interface.
MX Player will support most video and audio file formats so you don't need to worry about the file formats all the time. More than that MX player has many advanced features like subtitle support, kids lock, subtitle gestures, MX file sharing, and much more. Download MX Player from the Google Play Store easily.
Features of MX Player
Considered one of the best video players as it supports every kind of format.
Mx player has point-to-point gestures to guide you through the application.
The user can customize the settings at their convenience.
The application has a kids lock mode that disables all options to work when a child is operating the device.
You can download the MX player from the play store or the apple store and can get access to it easily.
Pros and Cons of Using MX Player
Pros
You can control various options just with a single click option screen.
Mx player support subtitles and you can even select your preferred language.
Users can also search for online subtitles.
Cons
The ads are still displayed if you are using the free version of the MX player.
The user must also download an audio format when downloading the MX player.
MX Player freezes quite a lot while playing HD videos on an Android device.
2. VLC Media Player – Best Media Player for Smart TV
VLC video player is one of the most commonly used media players by millions of users across the world. It is an open-source and cross-platform video player tool so you can use this video player on most devices. VLC video player is very famous for PC/laptop devices. Can easily download and install the VLC player on Android TV.  With the help of the VLC player, you can Equalizers and filter the weird audio formats and it has the ability to play most multimedia files as well as discs.
This player also supports multi-track audio and subtitles and it allows you to do auto-rotate, aspect ratio adjustment, and gesture controls. Try this VLC video player on Android TV and share your experience with us.
Features of VLC Media Player
The media player is available on all platforms with minimal amount limitations.
You can make conversion profiles from scratch to match the video and audio output.
Users can download video and audio from online sites like YouTube without pursuing external fully-fledged video and audio downloader software.
VLC media player Supports many formats and codecs such as MPEG, MKV, and MP3.
The user can enable subtitles to the video.
Pros and Cons of Using VLC Media Player
Pros
With the VLC media player, you do not have to worry about whether it will work on your system. VLC is a media player supported by every existing operational system, which includes Windows and Linux.
Unlike other media players, the VLC player doesn't require you to download additional codecs.
The user can also record live videos.
Cons
The user cannot customize program interfaces.
The application does not allow the user to make use of tags.
The user has to open files directly from their respective folders to play files.
3. KM Player – Best Movie Player for Android TV box
KM player is used by millions of users across the globe because of its advanced features and performance. KM Player is a perfect playback tool to play all types of video files and subtitles. In the recent HD video player update, you can play 4K, 8k, and UHD videos in KMPlayer and they are added new features like video zoom, quick button, playlist settings, subtitle settings, and so on. you may also know about Best Sites to Stream and Watch Live TV.
This app also supports different languages, one-finger gesture for brightness and volume, it allows you to play content from your Google Drive, equalizer, timer function, and mirror mode these are the few unique features in KMPlayer.
Features of KM Player
The user can Play videos, music, movies, and audio files with no lags.
You can also Steam videos from YouTube and other platforms through URLs.
The application offers several advanced tools, such as a slideshow creator.
You can use the preferred language in multiple languages, such as English, Korean, and more.
You can also Decode 4K, 3D, and Ultra HD videos without compromising the quality of the videos.
Pros and Cons of Using KM Player
Pros
KMPlayer is available on Windows and Mac, and you can even use it on mobile phones.
It also has a built-in remote playback support option.
It allows you to download and display the video and audio freely.
Cons
KM Player takes many sources while playing videos and audio.
Many ads are on the application's main page, with dedicated side panels and pop-ups.
The user can not remove ads, so it is inconvenient to watch videos as it breaks the flow.
4. BSPlayer – Best Media Player App for Android TV
It is an upcoming multimedia player for Android smartphones. It is designed and developed by BS Player Media this application made 4.2 user ratings in the Google Play Store because of its quality and performance. It is a free video player with lots of inbuilt options and features. It supports multicore HD decoding it significantly improves the playback speed.
The hardware-accelerated video playback is very helpful to increase the speed and reduce the battery consumption on the device. This BSPlayer also has options like Child lock, playlist support, USB OTG Helper, USB host controller, and much more. Download BS Player from the Google Play Store and share your experience with us.
Features of BSPlayer
The player allows the user to run all popular formats using a simple and friendly.
interface without compromising operation speed.
You can add subtitles, and you can also adjust the size of the subtitles.
You can watch various tv series and other content on your pc.
The application is light on resources and is easy to handle.
The user can adjust parameters easily.
Pros and Cons of Using of BSPlayer
Pros
The application Support global multimedia keyboard keys.
You can also Save YouTube videos to your local disk on your device.
The application lets you customize Audio as per your needs.
Cons
The program is not compatible with other installed applications.
the user can't read the time elapsed because of a bad interface
The progress bar doesn't take up the whole screen width
5. XPlayer – Best Android Tv Media Player
It is one of the professional video playback tools developed by inShot Inc. We know that Inshot inc always provides us with the best application similarly this X player is one of its best products. it supports almost all video formats and you can play 4K Ultra HD video files very easily.
It also provides you the feature to protect your private videos from being deleted or seen by unwanted persons. The features like a private folder, ultra HD video support, audio, and subtitle adjust easy control of video parameters like brightness and volume main things to make this app successful.
Features of XPlayer
The user can protect their private videos from being deleted or seen.
It supports almost all formats for video playing.
You can easily play 4K Ultra HD video files without any hassle.
You can easily control various video parameters like brightness and volume.
XplayerProvides the user with additional settings such as timer, sleep mode, and more.
Pros and Cons of Using XPlayer
Pros
The user can rewind or forward videos by swiping them left or right on the screen, making them easy to locate.
 XPlayer has a simple UI that is easy to guide and usable.
 XPlayer comes with easy ways to control and playback to play your videos.
Cons
The application support only a few kinds of file type.
X player takes quite a lot of time to load.
X player has no advanced playback features.
6. PlayerExtreme – the best android tv video player
PlayerExtreme is making its performance at its best and however, and users are loving it. It is providing the facility of subtitle downloader action and it is built with it. Furthermore, it can able to stream video directly from the PC or from a website. The action of playing the video and adjusting the brightness and all are highly appreciated. you may also check out Best Free Movies and Online TV Shows apps for Android.
Obviously, every user will love to approach this software once experienced it. Even more, it has been providing the feature of sharing your video directly to your social platforms. SMI, SRT, TXT, as well as SSA formats, can be easily played via this. This can be recommended in the category of Best Video Player for Android Smart TV free.
Features of PlayerExtreme
PlayerXtreme identifies any music, video, or photo format and displays all your content in easy interface navigation.
The user can Stream videos on their favorite devices.
PlayerXtreme Media organizes all of your media.
 Xtreme Media Players are available on two platforms: Android and Windows.
Xtreme player provides supreme picture quality, with over 8 million pixels.
Pros and Cons of Using PlayerExtreme
Pros
Provides the facility of subtitle downloader action.
The user can stream videos directly from the PC or an URL.
Provide the feature of sharing your video directly over your social media networking sites.
Cons
Allows a very minimal selection of files and folders.
Sometimes takes up a lot of time to load.
7. FX Player – Best Video player for Android TV Free
FX Player is highly used by most of the users who pay attention by referring to friends. It is built with better UI and a user-friendly experience at the easiest. Users can able to enjoy 4K videos and this is probably the best video player for Android Smart TV free.
It has got the facility of adjusting the screen size according to and it will be the best feature for your eye. Even if you are continuously using the smart TV, this player prevents your eye from basic eye issues happening. MP4, AVI, ASF, as well as MPG, and FLV are providing high support on this. Along with the screen size, it is providing the feature of a playback facility and it is amazing for entire users.
Features of FX Player
The app allows users to watch music videos, make a playlist, and download videos directly from the web.
Plays a variety of video formats.
You can extract MP3s from videos using an audio extraction tool and a video converter. Best for Picture-in-Picture Viewing.
While using other apps, you can watch your videos, films, and TV episodes.
Because the app works with Chromecast, you can stream your videos, shows, movies, and music to you.
Pros and Cons of Using FX Player
Pros
The user can download the Free version of the application.
The application provides you with great resolution.
supports pictures in picture format.
Cons
The application is not available on iOS.
The application Does not support  360-degree capabilities formats.
8. N Player – Best Android Media Player in 2022
Player sounds new to every common, likewise, it was there, however not paid attention to it. It has been brought to the market to find it unique because it can able to convert video files easily. This nPlayer is best suitable for importing video from the cloud servers. Various cloud server that supports nPlayer is Dropbox, Amazon Cloud Drive, Google Drive, One Drive, and even Yandex.
Amazingly the developers and the creators are resolving and making it a zero bug in each update. Furthermore, DTS audio codec and DTS HD are heavily supporting this player. This is one of the best MKV players for Android TV support video players ever invented.
Features of N Player
The users don't need to convert Video files to MP4 to play a video on a mobile device.
NPlayer lets you play all common video formats and codecs without the need to convert files.
You don't need to keep video files on your storage-constrained smartphone.
You can stream them from remote devices with the aid of the robust and diverse network technologies provided by nPlayer.
Pros and Cons of Using N Player
Pros
Supports various file types.
The user can also add subtitles and customize fonts and sizes.
The application supports Chromecast and video cast for Smart TV. It also Supports HDMI output
Cons
Use a different player if your file is low-resolution WMV because it will play back a little stutter-free.
Hardware MKV playback is not present.
Simple textual subtitles do not appear to be supported during MKV playback.
9. Kodi – Best Movies Streaming App for Android
Kodi is an outstanding player and the creators provide lots of features to it. Do you want to experience a free live TV app for Android Smart TV, this will be the right choice. This is an open-source video player, evenly it is supporting all video formats. Even though, you are free to switch to perform Live TV performances using Kodi. A collection of library space has been enabled for the best experience on Kodi by its creators. The voice control facility and streaming action are highly adapted to this video player.
Features of Kodi
The media player and playback platform Kodi is adaptable. Incredible customizability is what sets it apart.
Users can add and arrange their photos, music, and TV show libraries.
Even more, the app itself allows you to watch and record live TV.
Being open-source, free to use, and compatible with most operating systems, including Windows, macOS, Android, Linux, and iOS, the app is one of the most adaptable choices on our list.
The program offers distinctive features like a weather and radio app, and users may choose from a sizable library of add-ons to add extra functionality.
Pros and Cons of Using Kodi
Pros
The application supports music, photos, and games.
The user can use various formats to play their content.
It also allows screencast so that you can play your video directly from the device.
Cons
The application is not available on ios.
The user can download the free version and does not need subscription plans.
the application does not support 8k video quality.
10. VL Video Player IPTV – best android tv IPTV player
VL Video Player IPTV is highly recommended by users and is still referred to by their friends because of its performance. You will be surprised by the feature of HD-quality videos that are easily watchable. Moreover, multiple language subtitle action is provided by this video player finding it more unique.  Auto-rotation, as well as auto-ratio adjustment facility, is being provided by these creators for the end-users. This is highly supportive of 3D audio files and even with high resolution. Smart TV app-free channels are easily navigated and users will be experiencing the smart choice ever.
Features of VL Video Player IPTV
All video and audio formats are supported by VL Video Player IPTV, as well as the most popular audio and local network files for playing video and audio.
Automatically finds all of the music and movie files on your device.
Most local video and audio files, network streams (including adaptive streaming), and DVD ISOs may all be played with VL Video Player IPTV (VLC), much as on a desktop computer. Moreover, disc shares are supported.
Complies with all audio file formats such as MPEG, mpg, MOV, rm, Avi, m4v, mp4, Wmv, Flv, ts, tp,m3u, VOB, ASF, MKV, F4V, M3U8.
You can use the app to send and share movies with your pals.
Conclusion
Want to find the best video player for android tv free, stay updated. Here the above-given list of players is heavily recommended because of highly appreciated by the users. Bring the benefits of enjoying a smart TV experience using the top-rated Android free TV players available online.
These are all the top 10 Media Players for Android TV Free in 2022. To install the Android app on your Android Smart TV you just open the Google play store and install it directly on your Smart TV. If you have any doubts please feel free to ask us in the command section. you may also read about Best Video Player for Windows 10.
Related Post
4 Excellent Apps to Control Your PC Remotely
Best 10 Battery Saving Apps for Android
5 Best Wedding Invitation Card Maker Apps for Android